After racing a 70ft beast in the most remote parts of the world, time to tame another freak of the seas…
What to know more about the mini 650 class?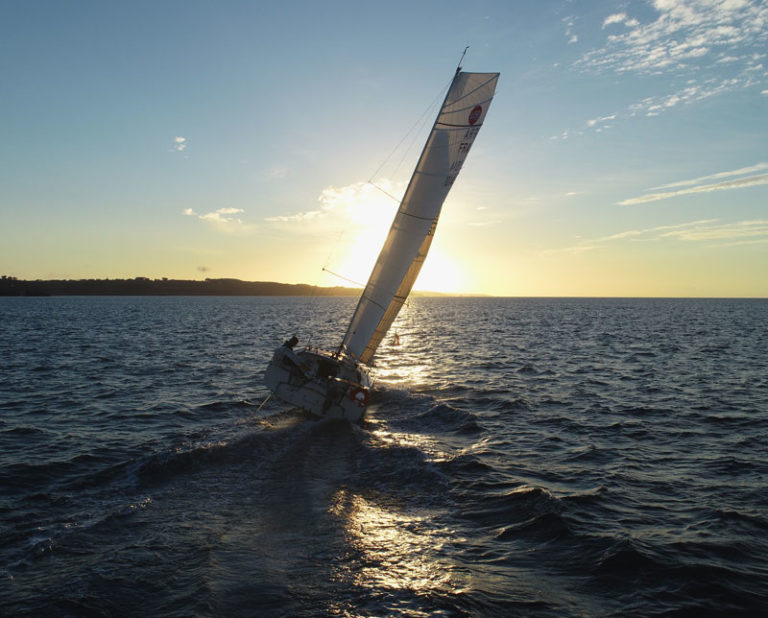 The Mini 6.50 Class is divided into production boats and the prototypes.
Some rules are common to all boats: 6.5m LOA max, 3m beam max, no communication, etc.
Prototypes are allowed to have daggerboard, canting keels, ballasts, carbon mast…etc. The mast is also a bit taller (11m instead of 10m for the production boats), the keel a bit lower (2m instead of 1,6m).
Let me introduce you to Kiraucassis.
She is a Maxi 650 from IDB Marine shipyards in France.
She is 6.5m (21ft) of raw power, built to cross oceans really (really) fast, single-handedly.
On my first day test sailing her, we would already reach 17+kts
She has a rounded bow, a design called "scow".
Many say it's ugly, some love this… in my opinion, it makes her faster than the competition when reaching and downwind… that's all I'm asking for.
Find out more about the design in my vlog.
the next boat to race single-handed across the Atlantic?
My next project is to race the Mini Transat, a race across the Atlantic single-handed on a one-design fleet.
The Mini 6.50 class is an incubator for innovation. Most of the technology and design concepts you find today in the IMOCA class have first been tested (and crash-tested) on a mini.
I chose to go for a scow, more powerful and stable downwind, the Maxi 650, from IDB marine, see more specs here.
Can't wait to get on the water with this new toy to see what it can give. Until then, have a look at the surfs these tiny offshore beasts are capable of.